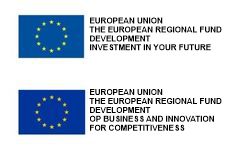 The projects are funded by the European Union (European Regional Development Fund).
BD SENSORS s.r.o. is globally innovative and competent supplier of electronic pressure sensors for industrial applications. Its portfolio consists of about 80 types of pressure sensors, and hundreds of customized application solutions have been developed to underline BD SENSORS s.r.o's competence and flexibility.
As part of development and innovation, BD SENSORS s.r.o. realizes following projects:
PROGRAM: OP BUSINESS AND INNOVATION FOR COMPETITIVENESS - INNOVATION
Project: BD SENSORS - Industrial Revolution 4.0 and the Deployment of the Internet of Things in Society
BD SENSORS s.r.o. intends to make a fundamental change, linking all internal production and logistics systems to networks within a comprehensive control system. The project addresses the implementation of production automation, its streamlining, the exchange of information between machines, the application of the latest industrial revolution 4.0. The intended operation is funded with EU support. Within the project, two "robotic nests" will be built to produce mechanical parts for pressure gauges and one CNC testing lathe. This production automation involves the involvement of highly qualified employees, setting up new processes, building data networks (SW) for mutual communication, transferring production and logistics information. Another point of the project is the launch of KARDEX automatic warehouses - for all the company's stock, thus automating and streamlining logistics processes, stocking and unloading stock items. Part of the Industrial Revolution 4.0 is the use of "chip management" and air extraction and recovery equipment.
PROGRAM: OP BUSINESS AND INNOVATION - DEVELOPMENT
Project: Acquisition of new technologies to increase the efficiency and competitiveness of the company